Soybeans Up, Corn & Wheat Tumble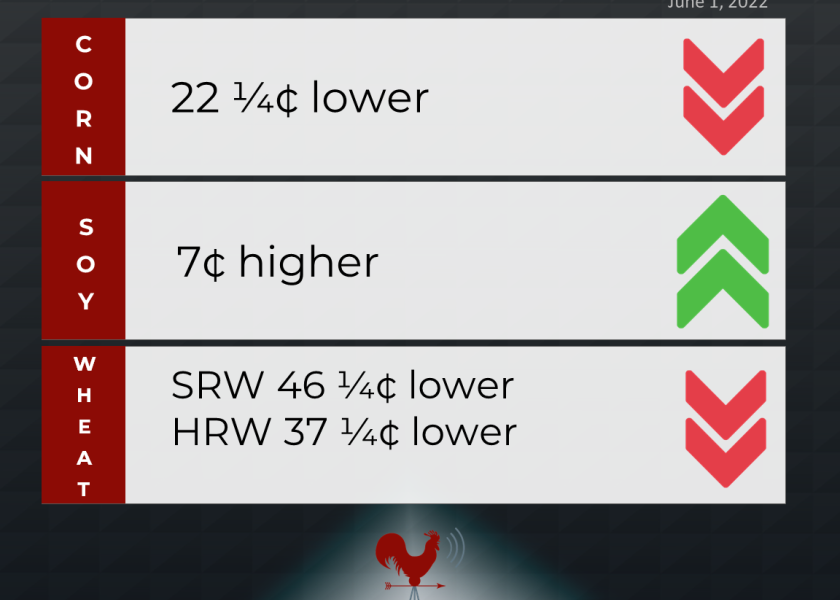 Corn: July corn futures tumbled 22 1/4 cents to $7.31 1/4, the contract's lowest close since April 1. December corn fell 20 cents to $6.91 1/2, also the lowest settlement since April 1. Corn futures sank to nine-week lows on spillover from a selloff in wheat, strong U.S. planting progress and a generally favorable weather outlook for crops.
Soybeans: July soybeans rose 7 cents to $16.90 1/4. July soymeal fell $2.10 to 412.70. July soyoil rose 19 points to 78.11 cents. Soybeans were supported by fresh export business and concern over delayed planting, particularly in the northern Midwest. 
Wheat: July SRW wheat fell 46 1/4 cents to $10.41 1/4, the contract's lowest closing price since April 7. July HRW wheat fell 37 1/4 cents to $11.28 1/4, a four-week low. July spring wheat plunged 50 1/2 cents to $11.97. Winter wheat futures extended Tuesday's slump amid signs grain shipments from Ukraine may resume.
Cattle: August live cattle rose $2.525 to $132.90. August feeder futures soared $4.60 to $169.725. Signs of fundamental firmness seemed to spur a rebound in cattle. Choice cutout values slipped 23 cents to $267.31 early today, still well above week-ago levels around $263.50.
Hogs: June lean hogs surged $1.825 to $109.80, while July hogs rallied $4.425 to $112.425, the contract's highest settlement since April 28. Hog futures jumped sharply in a corrective rebound from Tuesday's large declines, with strengthening cash fundamentals continuing to support prices.