Soybeans Drop Near Two-Week Low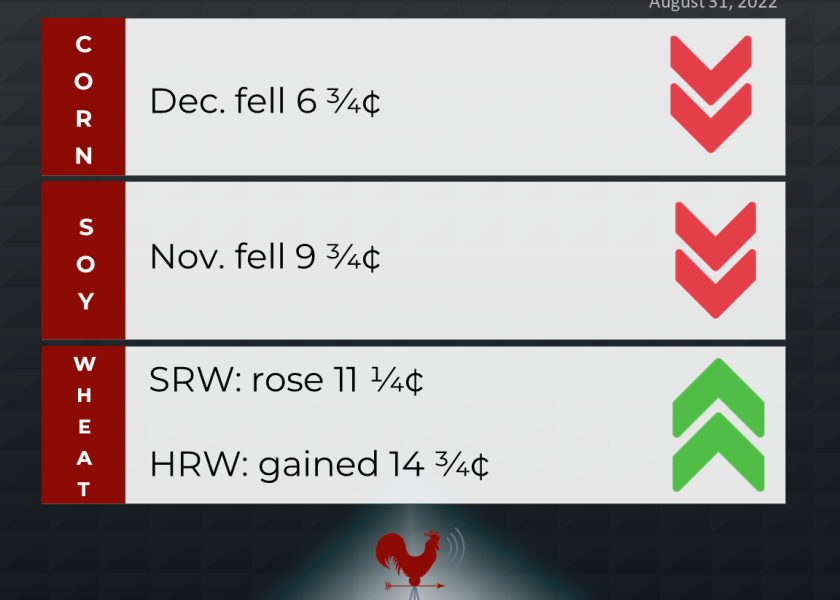 Corn: December corn fell 6 3/4 cents to $6.70 1/2, around the mid-point of today's range. Corn futures fell for the second consecutive session on pressure from weakness in outside markets, as crude oil dropped under $90 per barrel amid escalating concern over global recession.
Soybeans: November soybeans fell 9 3/4 cents to $14.27 3/4, the contract's lowest closing price since Aug. 19. October soymeal fell $9.10 to $420.70, while October soyoil rose 121 points to 68.90 cents. Soybeans ended near a two-week low amid expectations for a record U.S. crop and weakness in crude oil.
Wheat: December SRW wheat rose 11 1/4 cents to $8.31 1/2 and December HRW wheat gained 14 3/4 cents to $9.12 1/2, both near session highs. Spring wheat futures rose 9 cents to $9.29 1/2. Wheat futures rallied in a corrective bounce from Tuesday's losses as traders shrugged off weakness in corn, soybean and crude oil markets.
Cattle: October live cattle tumbled $1.25 to $142.575, the contract's lowest closing price since Aug. 2, while September feeder futures rose 27.5 cents to $182.45. Cattle futures fell as the wholesale beef market extended a slump and growing economic pessimism overshadowed signs of cash strength.
Hogs: October lean hogs fell $2.075 to $91.525. Hog futures fell on pressure from corrective selling following sharp gains the previous two sessions and a slump in the cash market. The CME lean hog index extended its slide, dropping $1.90 to $109.36, the lowest since June 17, is expected to fall another $1.74 Thursday.