Soybeans Extend Rally, End at 6-Week High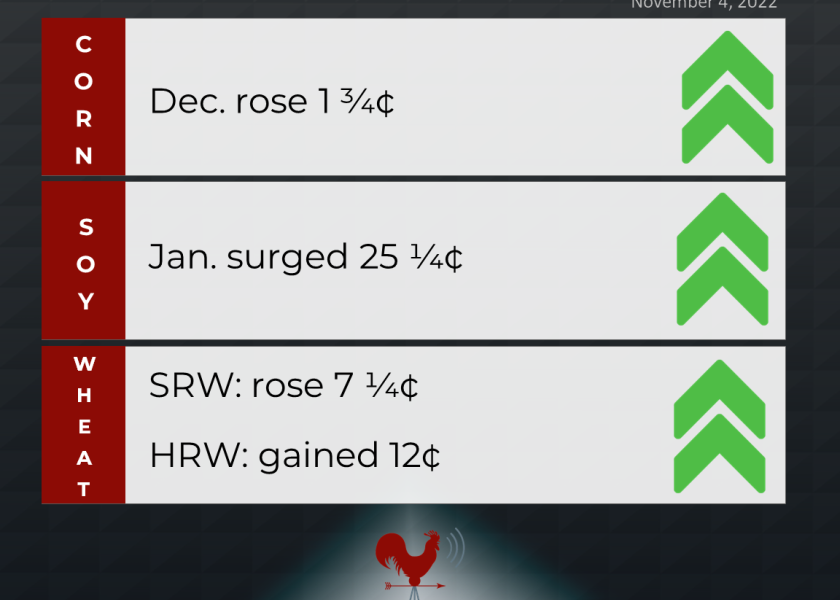 Corn: December corn futures rose 1 3/4 cents to $6.81, a gain of 1/4 cent for the week. Corn futures posted modest gains but ended largely flat on the week as traders looked ahead to USDA's Nov. 9 Crop Production and Supply and Demand Reports, which are expected to carry only minor adjustments.
Soybeans: January soybeans surged 25 1/4 cents to $14.62 1/4, a gain of 62 cents for the week and the contract's highest close since Sept. 22. December soymeal rose $6.10 to $420.40. December soyoil rallied 188 points to 77.17 cents, near a five-month high. Soybeans extended this week's rally behind strength in crude oil and global vegoil markets.
Wheat: December SRW wheat rose 7 1/4 cents to $8.47 3/4, up 18 1/2 cents for the week. December HRW wheat gained 12 cents to $9.53 1/4, up 28 1/4 cents for the week. December spring wheat rallied 11 1/2 cents to $9.54 1/2. Status of a deal allowing Ukraine grain exports will continue to be a market concern as the agreement's Nov. 19 expiration nears.
Cattle: December live cattle fell 30 cents to $151.65, a drop of $1.35 for the week. January feeder cattle rose 20 cents to $179.625. Nearby live cattle fell for the first week in the past three on signs recent cash strength may be fading. Live steers averaged $151.79 through Thursday morning, down 16 cents from last week's average.
Hogs: December lean hogs fell 40 cents to $82.975, the contract's lowest close since Oct. 14 and a weekly decline of $3.175. Hog futures fell sharply a second consecutive week on eroding cash fundamentals and an outlook for increasing supplies.