Soybeans Extend Rally, Wheat Higher, Corn Lower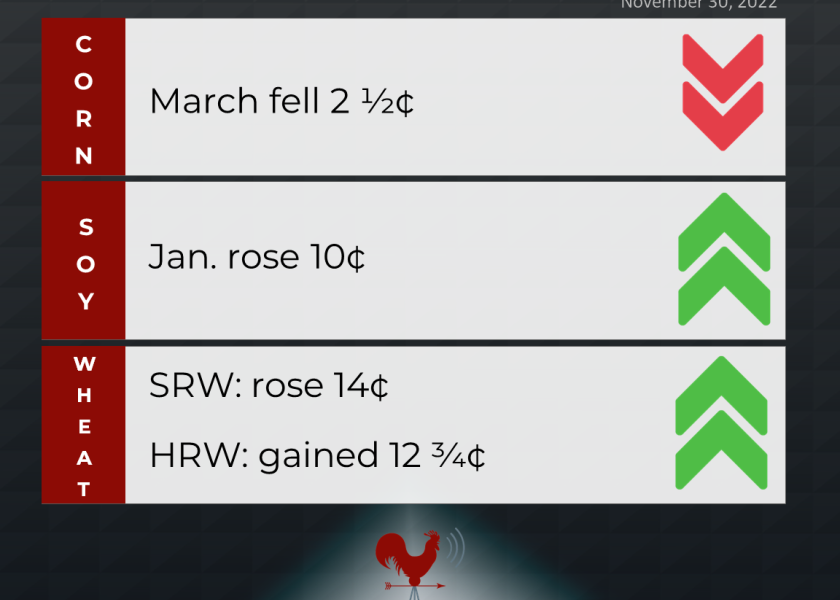 Corn: March corn fell 2 1/2 cents to $6.67, down 29 3/4 cents for the month. Corn faded from overnight gains and ended lower as ongoing concern over slow export demand outweighed bullish outside markets, including the crude oil's rally.
Soybeans: January soybeans rose 10 cents to $14.69 1/2, the contract's highest close since Sept. 20. January soymeal rose $9.20 to $417.70, the highest close since Nov. 1. January soyoil fell 110 points to 71.88 cents. Soybeans extended a two-week rally amid a surge in soymeal, further indications of strong demand and concerns over South American dryness.
Wheat: March SRW wheat rose 14 cents to $7.95 1/2 and March HRW wheat gained 12 3/4 cents to $8.99 3/4. March spring wheat rose 8 1/2 cents to $9.43. Winter wheat was boosted by short covering in the wake of the market's drop to three-month lows earlier this week. A sharp pullback in the U.S. dollar also supported grain markets.
Cattle: February live cattle climbed 87.5 cents to $155.675, the contract's highest close since Nov. 22. January feeder futures surged $2.475 to $180.475. Expectations for continued strength in cash prices supported cattle futures.
Hogs: February lean hogs rose $1.20 to $85.35, after earlier dropping as low as $83.725, the lowest intraday price since Oct. 17. Hog futures rebounded sharply from six-week lows earlier in the session amid ideas the cash market is near a seasonal bottom and may trend higher over the next few weeks.