Soybeans Extend Sharp Slide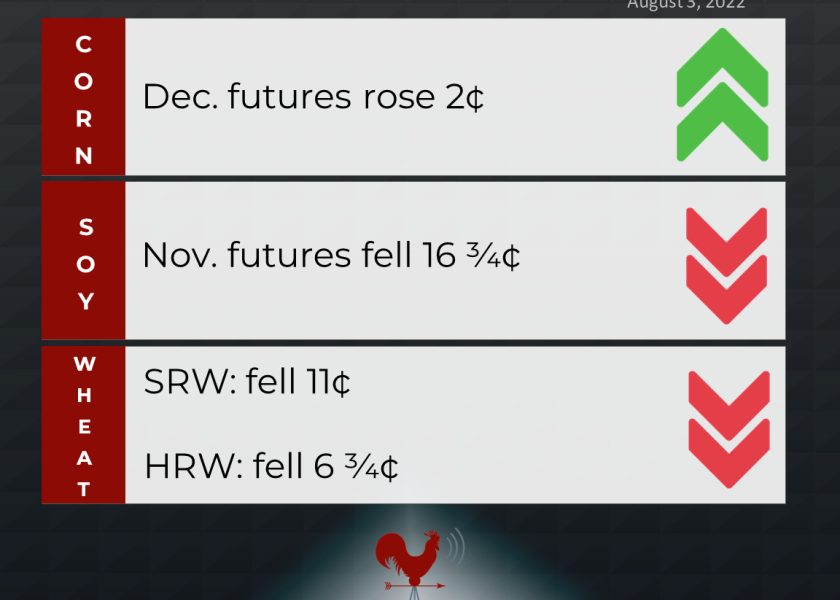 Corn: December corn rose 2 cents to $5.96 1/4 after dropping earlier to $5.87 1/2, the lowest intraday price in over a week. Corn futures fell initially amid forecasts for rain in the Midwest this week and expectations for continued grain shipments out of Ukraine but rebounded behind late bargain-buying.
Soybeans: November soybeans fell 16 3/4 cents to $13.69 3/4, the contract's lowest closing price since July 25. September soymeal fell $2.80 to $431.40 and September soyoil fell 51 points to 61.82 cents. Soybean futures erased overnight gains and fell a third consecutive session as crude oil tumbled to a six-month low and forecasts promised rain relief for parts of the Midwest.
Wheat: September SRW wheat fell 11 cents to $7.63 3/4, a six-month closing low. September HRW wheat fell 6 3/4 cents to $8.35 1/2. September spring wheat rose 2 cents to $8.75 1/4. Winter wheat extended this week's sell-off on pressure from weakness in corn and soybean futures and easing supply concerns following the resumption of grain shipments from Ukraine.
Cattle: October live cattle rose $1.825 to $143.95, a three-month closing high. September feeder futures rose $1.45 to $182.90. Cattle futures surged behind signs this week's cash trade will reverse a four-week slide. Initial cash prices this week were up as much as $3 from last week's levels.
Hogs: August lean hogs rose $1.15 to $121.00, the highest close for a nearby contract since June 2021. October futures fell 37.5 cents to $95.85. Hogs ended mostly lower amid signs a recent cash market rally is fading. The CME lean hog index fell 30 cents to $121.57 (as of Aug. 1), and tomorrow's quote is expected to fall another 63 cents.