Soybeans Fade From Gains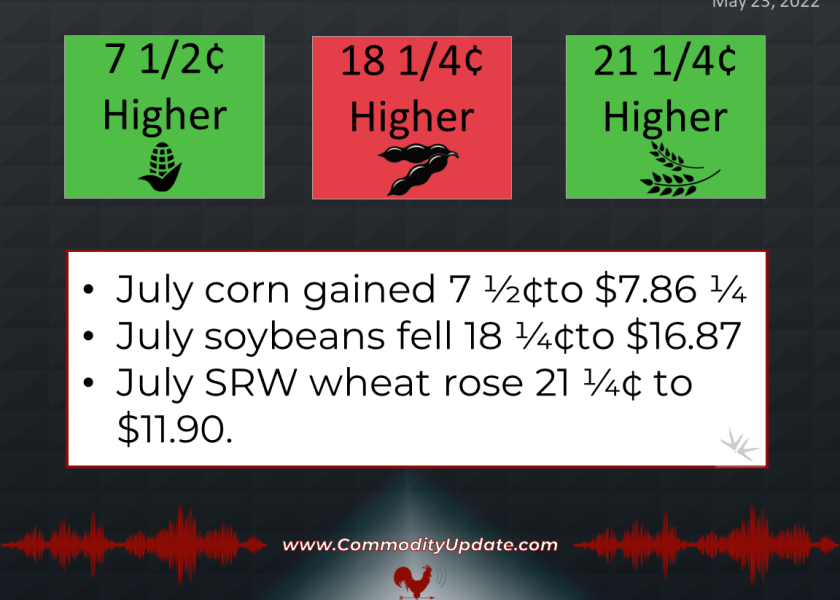 Corn: July corn gained 7 1/2 cents to $7.86 1/4. December corn rose 7 cents to $7.39. Futures benefited from corrective buying and spillover from gains in wheat. U.S. corn planting progress last week exceeded expectations, with an estimated 72% of the crop seeded as of Sunday, up from 49% a week earlier and under the 79% average of the previous five years. 
Soybeans: July soybeans fell 18 1/4 cents to $16.87, after posting a four-week high at $17.20 earlier. July soymeal fell $7.40 to $422.50. July soyoil fell 46 points to 80.47 cents. Nearby soybeans faded from overnight gains on pressure from soymeal weakness and fund-driven profit-taking. Late today, USDA reported the U.S. soybean crop was 50% planted as of Sunday, up from 30% a week earlier but behind the 55% five-year average.
Wheat: July SRW wheat rose 21 1/4 cents to $11.90. July HRW wheat rose 23 3/4 cents to $12.76 1/2. July spring wheat futures rose 19 1/2 cents to $12.98 1/2. Wheat futures posted a corrective rebound following sharp losses during the second half of last week. USDA-reported crop conditions improved slightly the past week, with the good-to-excellent rating rising to 28% from 27% and poor-to-very-poor falling to 40% from 41%.
Cattle: August live cattle rose $1.425 to $132.975, up from an early drop to a 6 1/2-month low and the contract's highest closing price since May 17. August feeder cattle rose $1.70 to $165.625. Bearish USDA Cattle on Feed numbers initially pressured live cattle, but the market recovered in part behind strength in hog futures and in wholesale beef.
Hogs: June lean hog futures rose $1.50 at $110.375, while July hogs rose $1.85 at $110.85, a three-week closing high. Futures extended last week's rally on followthrough buying fueled by firming cash benchmarks and beliefs the market has started a delayed seasonal rally. The CME lean hog index rose 80 cents to $101.17 (as of May 19), the third straight daily gain and near a two-week high.