Soybeans Fade from Sharp Gains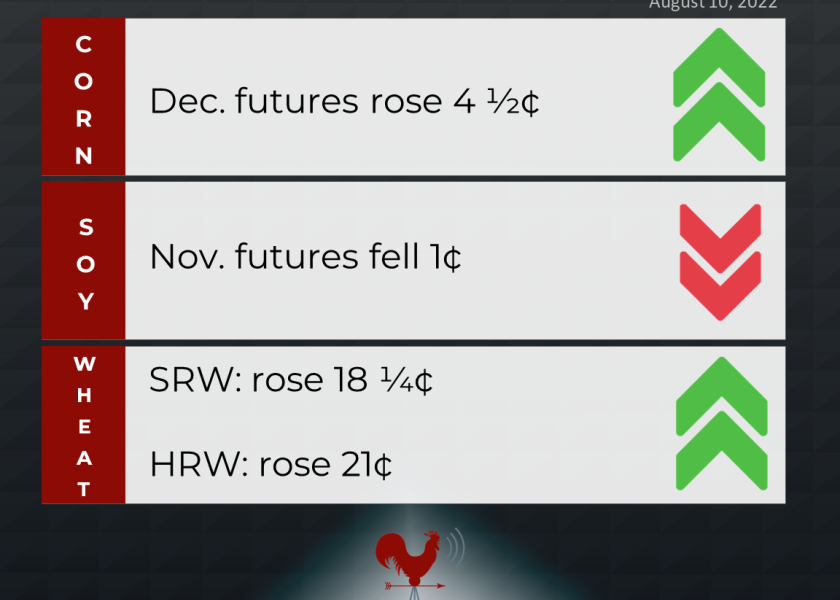 Corn: December corn futures rose 4 1/2 cents to $6.18 1/2, the contract's highest closing price since July 29. Corn faded from initial highs as soybeans sank to losses and some weather outlooks suggested greater rain chances next week in the dry western Corn Belt. Traders await USDA's Crop Production report Friday. USDA is widely expected to lower its projections for U.S. corn production and yields.
Soybeans: November soybeans fell 1 cent to $14.27 3/4 after earlier rising to $14.54 3/4, the highest intraday price since Aug. 1. September soymeal rose 50 cents to $449.60. September soyoil rose 162 points to 67.38 cents, a six-week closing high. Soybeans faded from an initial rally amid profit-taking and some forecasts indicating greater rainfall prospects for dry parts of the Midwest.
Wheat: September SRW wheat rose 18 1/4 cents to $7.99 3/4, the contract's highest closing price since July 29. September HRW wheat rose 21 cents to $8.72 3/4. September spring wheat gained 13 1/2 cents to $9.06 1/4. Wheat futures climbed near two-week highs on short-covering fueled in part by a sharp decline in the U.S. dollar index, which fell to a six-week low.
Cattle: October live cattle gained $1.30 to $144.475, the contract's highest closing price since May 4. September feeder futures jumped $2.50 to $185.00. Cattle futures were supported by demand optimism and expectations the cash market will extend last week's strength.
Hogs: October lean hogs surged $1.25 to $100.85, a lifetime-high close for the contract. Hog futures resumed the recent rally following Tuesday's downturn amid ongoing strength in cash fundamentals. The next CME lean hog index is expected fall 16 cents to $122.09, but it still near a 14-month high.