Soybeans Fall to Three-Week Low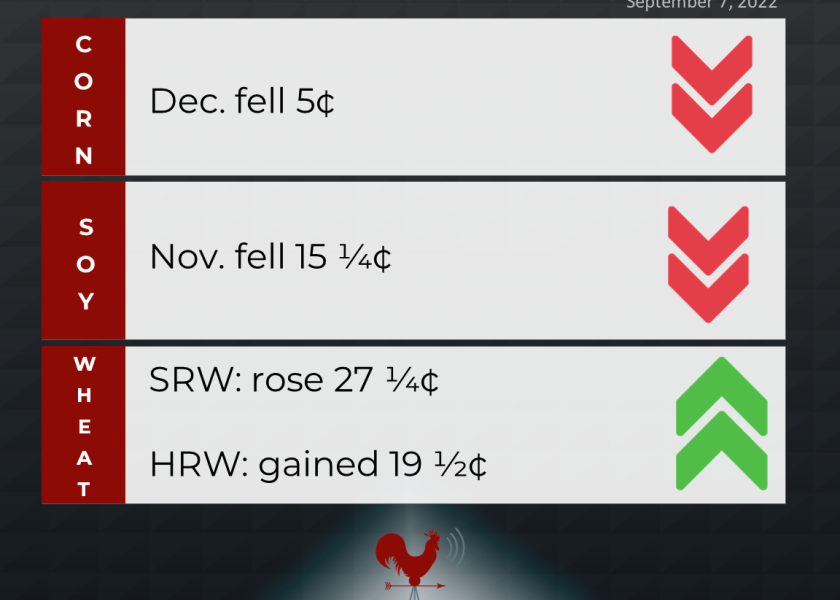 Corn: December futures fell 5 cents to $6.71, after earlier reaching $6.88, the highest intraday price since June 23. Corn faded after rising overnight amid renewed uncertainty over global supplies after Vladimir Putin claimed Russia and the developing world had been "cheated" by a UN-brokered Ukrainian grain export deal. Putin vowed to revise the deal's terms to limit countries that can receive shipments.
Soybeans: November soybeans fell 15 1/4 cents to $13.83 1/2, the contract's lowest closing price since Aug. 16. October soymeal rose $4.40 to $415.00, while October soyoil fell122 points to 63.68 cents. Soybeans ended at the lowest level in over three weeks amid signs of increasing supplies and slower demand, with prospects for a record U.S. crop also weighing on the market. Crude oil's drop to the lowest levels since January also burdened the soy complex.
Wheat: December SRW wheat rose 27 1/4 cents at $8.44 1/4, the contract's highest closing price since July 11. December HRW wheat gained 19 1/2 cents to $9.01 1/2. December spring wheat rose 10 1/4 cents to $9.00. December SRW wheat settled at an eight-week closing high amid renewed concerns over Ukrainian supplies.
Cattle: October live cattle fell 80 cents to $144.25 after rising as high as $145.50 earlier in the session. October feeder futures tumbled $2.15 to $183.95. Live cattle futures climbed initially behind strength in the wholesale beef market but faded to losses as crude oil's drop weighed on the commodity sector.
Hogs: October lean hogs fell 2.5 cents to $91.075, while deferred contracts ended firmer. Nearby October futures remained under pressure from soft cash fundamentals. The CME lean hog index fell $1.48 to $103.26, the lowest since May 23, and is expected to drop another $1.78 Thursday.