Soybeans Higher on Demand Fundamentals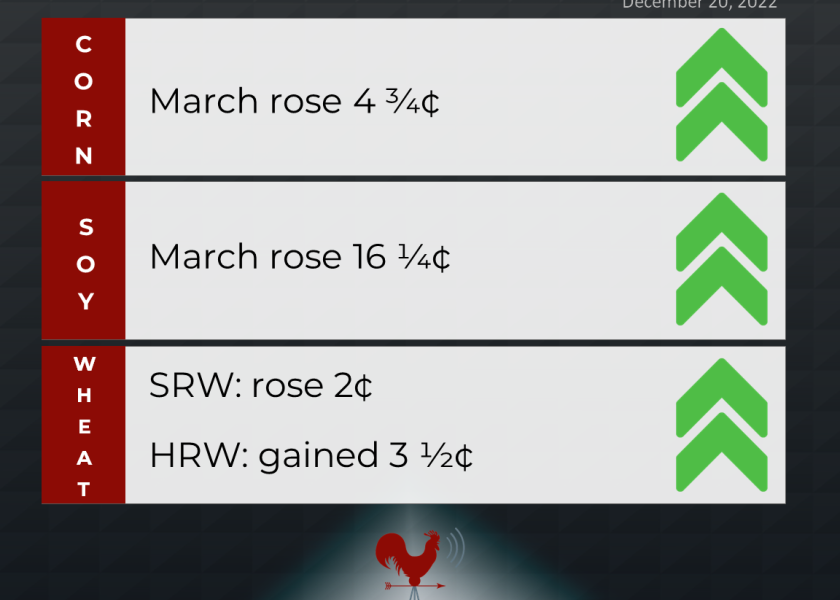 Corn:  March corn rose 4 3/4 cents to $6.52, around the middle of the past week's range. Corn futures gained as strength in the soy complex and a weakening U.S. dollar prompted corrective buying in light volume ahead of the Christmas holiday.
Soybeans: March soybeans rose 16 1/4 cents to $14.79 3/4. March soymeal gained $3.20 to $449.30. March soyoil rose 140 points to 64.81 cents, the contract's highest close since Dec. 1. Soybeans rose near last week's highs behind technical strength, gains in soymeal and optimism over demand. Signs of improvement rainfall prospects in dry areas of South America limited buying interest.
Wheat: March SRW wheat rose 2 cents to $7.50 1/2. March HRW wheat gained 3 1/2 cents to $8.47. Prices closed nearer the session lows. March spring wheat futures rose 7 3/4 cents to $9.16. Wheat futures markets were supported by weakness in the dollar.
Cattle: February live cattle fell 47.5 cents to $155.575. January feeder futures leapt $1.525 to $183.625. Live cattle futures extended a choppy, sideways pattern, supported by longer-term optimism that tight animals supplies will keep cash prices elevated.
Hogs: February lean hog futures fell $1.45 to $84.25. Hogs faded under further indications the cash market has yet to find a seasonal bottom following an extended slide. The CME lean hog index fell 71 cents to $80.84, the lowest level since Jan. 27. Wednesday's index is expected to rise 2 cents.