Soybeans Near 10-Year High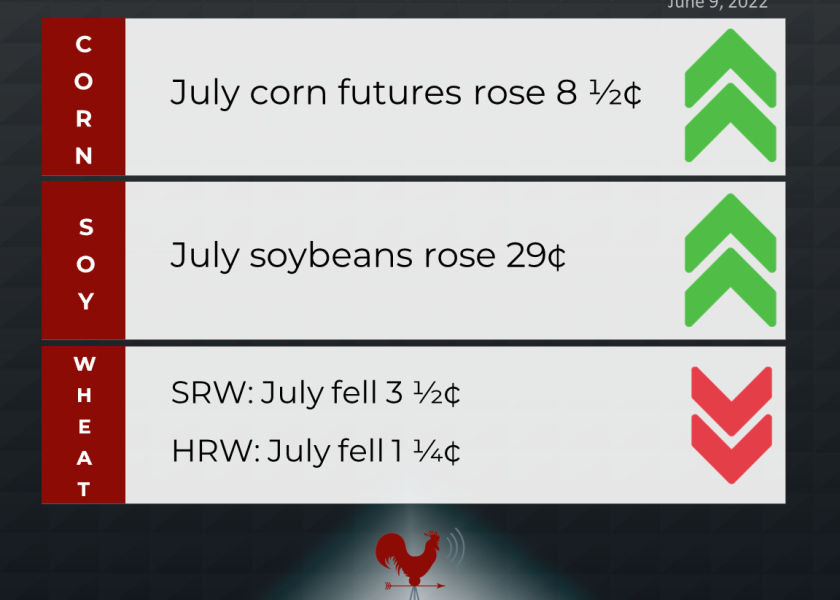 Corn: July corn rose 8 1/2 cents to $7.73, the contract's highest close since May 27. December futures faded from earlier gains to end 1 cent lower at $7.16 3/4. Nearby corn rose as the market extended a weeklong technical resurgence. USDA, in its monthly Supply and Demand update Friday, is expected to slightly reduce its estimate for U.S. corn ending stocks for 2021-22 and 2022-23.
Soybeans: July soybeans surged 29 cents to $17.69, the highest close for a nearby contract since September 2012. November soybeans rose 14 1/4 cents to $15.82 1/4, a lifetime-high close for the contract. Nearby soybeans rose for a fourth consecutive session amid fresh export demand and expectations USDA's Supply and Demand report tomorrow will reflect continued supply tightening.
Wheat: July SRW wheat fell 3 1/2 cents to $10.71 1/4. July HRW wheat fell 1 1/4 cents to $11.53 3/4. July spring wheat fell 10 1/2 cents to $12.24. Wheat futures fell ahead of a USDA Supply and Demand Report that's expected to show slight increases in estimates for U.S. and global 2021-22 ending stocks.
Cattle: August live cattle fell 32.5 cents to $137.20 after earlier hitting a x-week high at $. August feeders gained 37.5 cents to $176.025. Cattle futures faded from initial strength as corn and soybeans climbed and weakness in U.S. equities and crude oil stirred concern over a potential recession that would hurt beef demand.
Hogs: July lean hogs fell $2.95 to $105.00, a three-week low. Hogs extended a recent slump amid beliefs cash fundamentals have peaked. The CME lean hog index fell 32 cents to $107.48 and is expected to drop another 17 cents tomorrow. Also today, USDA reported net weekly U.S. pork sales at 16,700 MT for 2022, down 44% from the prior four-week average.