Soybeans Rally, Corn, Wheat Also Up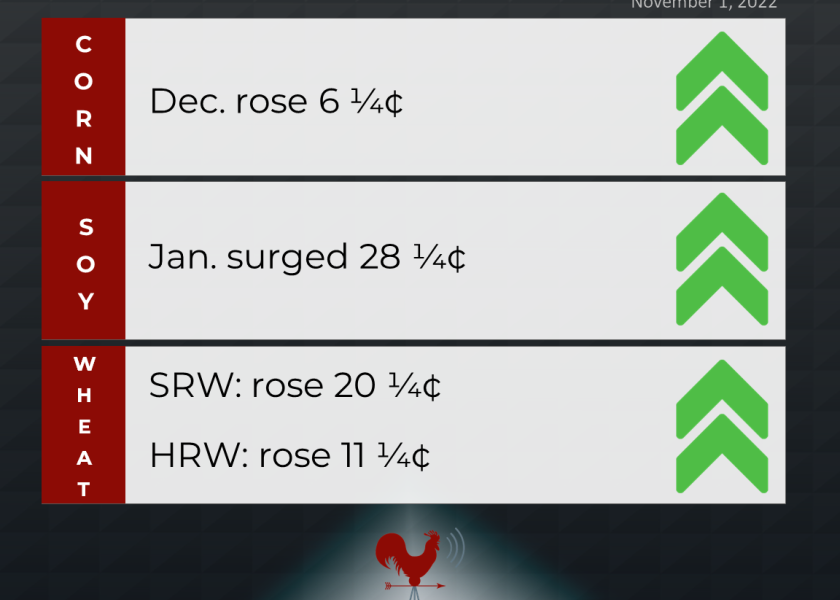 Corn: December corn futures rose 6 1/4 cents to $6.97 3/4, the contract's highest closing price since Oct. 13. Corn rebounded from overnight weakness behind easing harvest pressure and spillover support from gains in soybeans and wheat. The uncertain status of a deal allowing grain shipments from Ukraine's Black Sea ports continued to underpin futures.
Soybeans: January soybeans surged 28 1/4 cents to $14.47 3/4, the highest close since Sept. 22. December soyoil gained 16 points to 73.37 cents. December soymeal slid $3.30 to $424.80. Soybeans climbed near six-week highs as election-related protests in Brazil stirred concern over supply disruptions.
Wheat: December SRW wheat rose 20 1/4 cents to $9.02 1/2, the contract's highest close since Oct. 10. December HRW wheat rose 11 1/4 cents to $9.90. December spring wheat rose 8 1/2 cents to $9.89 3/4. Winter wheat ended at the highest levels in three weeks amid concern over Ukrainian grain shipments and sharply lower than expected USDA crop ratings.
Cattle: December live cattle fell 52.5 cents to $151.95, the contract's lowest close since Oct. 20. January feeder cattle fell $1.25 to $178.20. Live cattle settled near a two-week low on mild profit-taking pressure, thought cash fundamentals remain solid. Choice beef cutout values fell $1.02 to $262.63, down from a two-month high Monday. Movement totaled 132 loads.
Hogs: December lean hogs rose 27.5 cents to $85.20. Hog futures ended mixed as recent softening in cash fundamentals tempered buying interest. The CME lean hog index rose 2 cents to $93.79, the first gain in four days. Wednesday's index is expected to fall 4 cents. Pork cutout values fell $2.73 to a nine-month low of $97.21, as all cuts with the exception of bellies eased.