Soybeans Sink to Six-Month Lows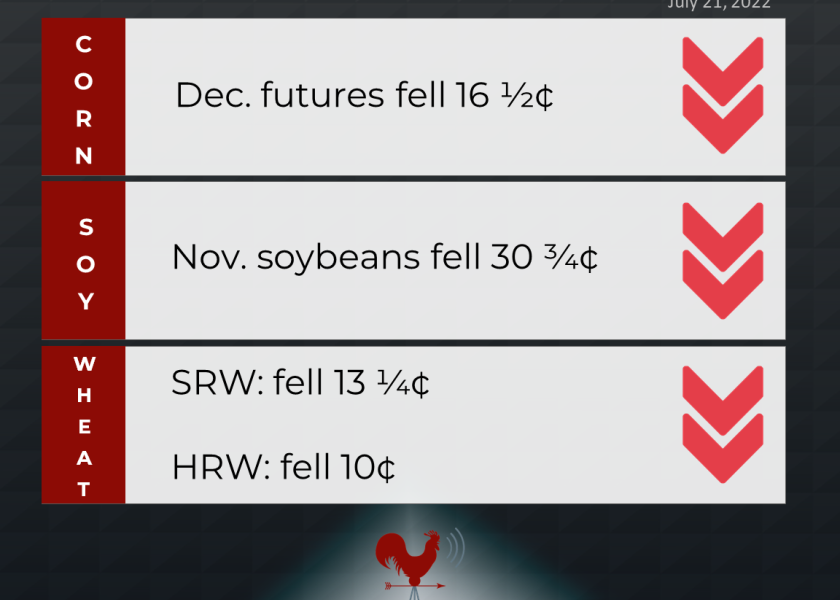 Corn: December corn futures fell 16 1/2 cents to $5.73 1/2, the contract's lowest close since $5.68 1/4 on Feb. 3. Grain markets fell sharply on late reports Russia agreed to allow Ukrainian grain exports through the Black Sea and that a deal may be signed Friday. Weather in the Corn Belt also leans bearish, with rain expected next week.
Soybeans: November soybeans plunged 30 3/4 cents to $13.01 1/2, the contract's lowest closing price since $12.84 on Jan. 18. August soymeal fell $2.10 to $434.40 and August soyoil fell 143 points to 58.60 cents. Soybeans fell on expectations Midwest rain over the next week will provide a boost just as the crop enters key reproductive phases in August. A sharp drop in crude oil also pressured the soy complex.
Wheat: September SRW wheat fell 13 1/4 cents to $8.06 1/4 and September HRW wheat fell 10 cents to $8.67 3/4. September spring wheat fell 11 3/4 cents to $9.12 1/2. Pressure stemmed from reports Ukraine, Russia, Turkey and U.N. Secretary-General Antonio Guterres will sign a deal Friday to resume Ukraine's Black Sea grain exports.
Cattle: August live cattle fell 2.5 cents to $135.725. August feeder futures rose 45 cents to $178.275. Live cattle extended sideways trading as expectations for a third straight weekly decline in cash prices was offset to some extent by stronger export numbers.
Hogs: August lean hogs rose $1.425 at $116.30, the contract's highest closing price since April 22. Hog futures gapped higher for the second straight day and posted a three-month high behind technical strength and bullish cash fundamentals. The CME lean hog index rose 46 cents to $116.37 (as of July 19), the highest level since June 2021, and is expected to rise another 58 cents tomorrow.