Soybeans Tumble Near Two-Week Lows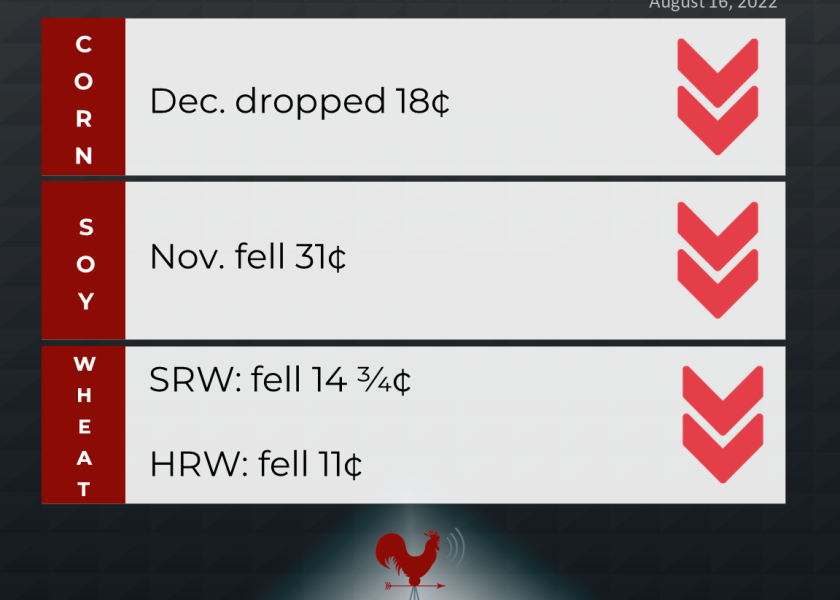 Corn: December corn dropped 18 cents to $6.10 1/4, the lowest close since Aug. 8. Corn fell on a generally favorable Midwest weather outlook and declines in crude oil. Recent weakness in Chinese economic readings and accelerating grain shipments out of Ukraine fueled bearish momentum in grains.
Soybeans: November soybeans fell 31 cents to $13.88, the contract's lowest closing price since Aug. 3. September soymeal fell $16.30 to $435.90. September soyoil fell 110 points to 67.84 cents. Soybeans extended Monday's sharp declines on expectations a mostly favorable weather outlook for the Midwest will boost yield prospects.
Wheat: September SRW wheat fell 14 3/4 cents to $7.86. September HRW wheat fell 11 cents to $8.71 3/4. September spring wheat futures fell 8 cents to $9.02 3/4. Wheat futures continued to follow the lead of outside markets, as corn and soybean markets fell and crude oil tumbled.
Cattle: October live cattle rose $1.875 to $145.675, the contract's highest closing price since April 22. September feeder cattle rose $2.475 to $185.475. Live cattle futures surged to a 3 1/2-month high behind bullish technicals and optimism the cash market will extend recent gains.
Hogs: October lean hogs plunged the $4.00 daily limit to $96.575, the lowest close since Aug. 3. Hogs fell sharply amid signs of a peak in cash fundamentals and anticipation of a typical seasonal downturn later this month. Tomorrow's CME lean hog index is expected to fall 65 cents to $121.06, the fourth decline in the past five days.