Today's Market Recap (7/19)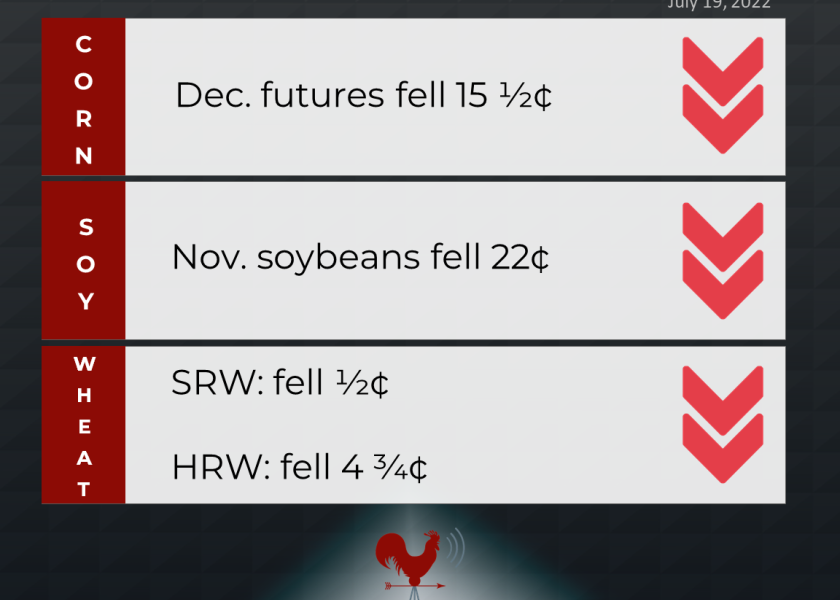 Corn: December corn futures fell 15 1/2 cents to $5.95 1/4. Corn generated little followthrough buying interest following Monday's gains, partly due to expectations for cooler temperatures and rain in the Midwest next week. Prospects for a resumption of grain shipments from Ukraine also weighed on prices.
Soybeans: November soybeans fell 22 cents to $13.58 1/4 a bushel, around the middle of today's range. August soymeal rose 50 cents to $435.00 and August soyoil fell 131 points to 61.89 cents. The soy complex finished mostly lower on spillover pressure from weakness in crude oil and expectations for relief from this week's extreme heat in the Midwest.
Wheat: September SRW wheat fell 1/2 cent to $8.12 1/4. September HRW futures fell 4 3/4 cents to $8.69 1/4. September spring wheat fell 8 3/4 cents to $9.30 1/4. Prices took pressure after Egypt's state grains buyer cancelled an international wheat purchase tender that had drawn offers of U.S. wheat.
Cattle: August live cattle rose 10 cents to $135.725. August feeder cattle rose $2.075 to $178.75. Live cattle futures rose modestly in two-sided activity as traders waited for the cash market to develop, while feeder futures posted strong gains as corn prices dropped over 15 cents.
Hogs: August lean hog futures rose 70 cents to $112.825, the contract's highest closing price since late April. Hog futures were supported by signs that meat demand is holding up relatively well despite recession concerns. Pork cutout values early today reached $125.72, the highest since August.