Weekly Market Recap (6/10)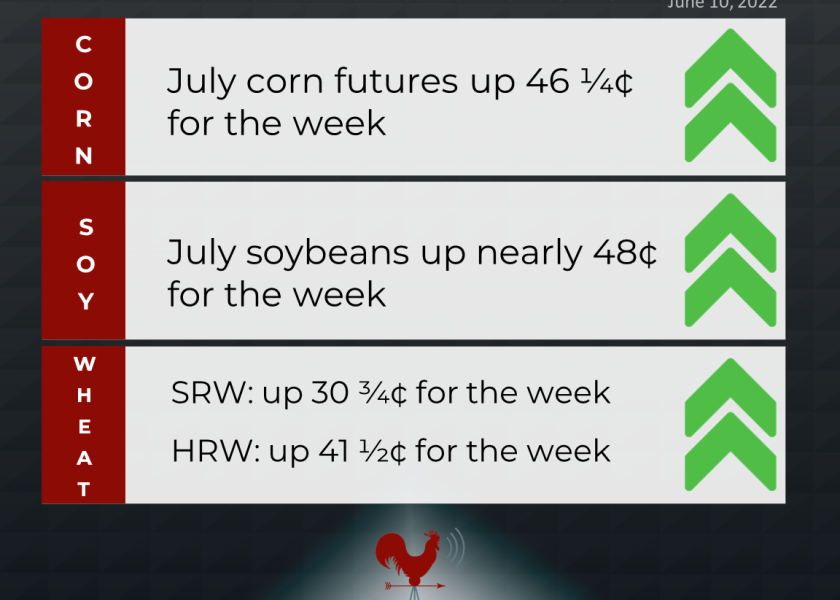 Corn: July corn futures rose 1/4 cent to $7.73 1/4, still up 46 1/4 cents for the week and the contract's first weekly gain in six. December corn rose 3 3/4 cents to $7.20 1/2, up 20 1/2 cents for the week. July corn posted a firm weekly advance as strong cash markets suggested fresh export buying may be in the works. The market shrugged off slightly bearish numbers in USDA's Supply and Demand report as focus remained largely on Midwest weather and early crop development.
Soybeans: July soybeans fell 23 1/2 cents to $17.45 1/2, still up nearly 48 cents for the week and the contract's fourth weekly gain in the past five. November soybeans fell 14 cents to $15.68 1/4. July soymeal rose $1.60 to $429.10, a two-week high, and July soyoil fell 182 points to 80.81 cents. Soybean futures retained a sharp advance for the week and are still near a 10-year high at $17.84 posted by nearby futures Thursday. Focus next week will center on planting progress and Midwest weather.
Wheat: July SRW wheat fell 1/2 cent to $10.70 3/4, up 30 3/4 cents for the week. July HRW wheat rose 8 3/4 cents to $11.62 1/2, up 41 1/2 cents for the week. July spring wheat fell 2 1/2 cents to $12.21 1/2. Wheat futures posted firm gains for the week even after USDA unexpectedly raised its U.S. winter wheat production estimate by 8 million bu. from last month to 1.182 billion bu.
Cattle: August live cattle dropped $1.10 cents to $136.20, up $2.35 for the week. August feeder futures tumbled $1.55 to $174.475. Cattle futures posted a sharp gain for the week on renewed cash strength. USDA-reported live steers averaged $140.52 through Thursday morning, up almost $2.50 from last week's average.
Hogs: July lean hogs rose 47.5 cents to $105.475, down $5.275 for the week. Hogs tumbled this week amid signs of a cash market peaked. The CME lean hog index slipped the past two days following weeks of firm advances and the next quote is expected down 12 cents. Pork cutout values rose 7 cents to $109.16, down from $112.02 at the end of last week, on light movement of 254 loads.