Wheat Drops Sharply in Corrective Setback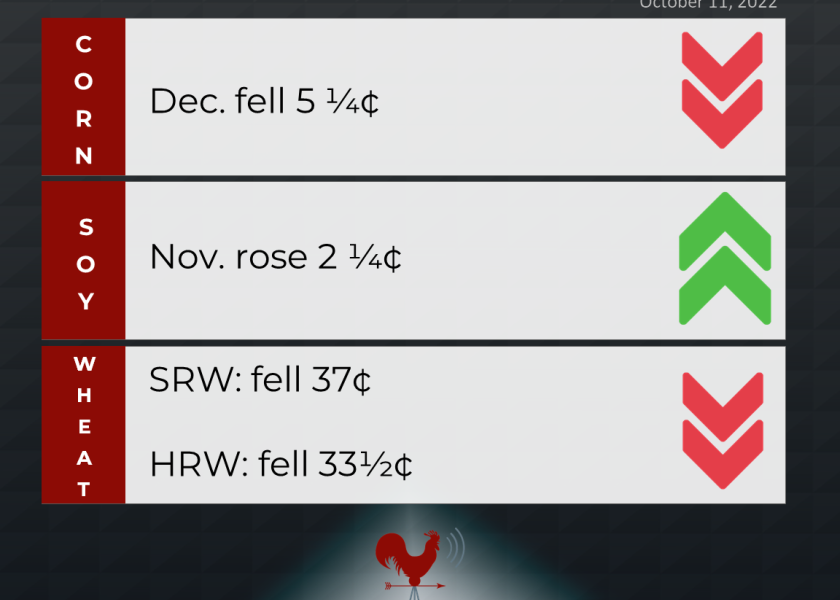 Corn: December corn futures fell 5 1/4 cents to $6.93. Corn posted modest losses on corrective selling following Monday's rally near four-month highs, with traders continuing to monitor Ukraine as they awaited Wednesday's USDA monthly Crop Production and Supply and Demand reports.
Soybeans: November soybeans rose 2 1/4 cents to $13.76 1/4, while December meal futures rose 30 cents to $406.00, and soyoil futures fell 56 points to 68.98 points. Soybeans faded from earlier strength and ended narrowly mixed as lackluster export demand and an outlook for a large South American crop continued to hang over prices.
Wheat: December SRW wheat fell 37 cents to $9.01. December HRW wheat fell 33 1/2 cents to $9.90 3/4. December spring wheat fell 29 cents to $9.85 1/4. Wheat futures dropped sharply on pressure from profit-taking and corrective selling following Monday's rally to three-month highs.
Cattle: December live cattle rose $1.40 to $148.40, the contract's highest closing price since Sept. 22. November feeder futures jumped $3.10 to $175.975. Live cattle climbed on optimism over cash prices, which rose $1.45 last week, based on USDA's average live steer prices.
Hogs: October lean hogs fell 72 cents to $93.025. December slipped 7.5 cents to $79.525. Nearby futures eased amid uncertainty over the cash market's tone. Today's CME lean hog index rose 33 cents to $92.98 (as of Oct. 7), still near an eight-month low. Wednesday's quote is expected to decline 3 cents.