Wheat Rallies to 2-Month High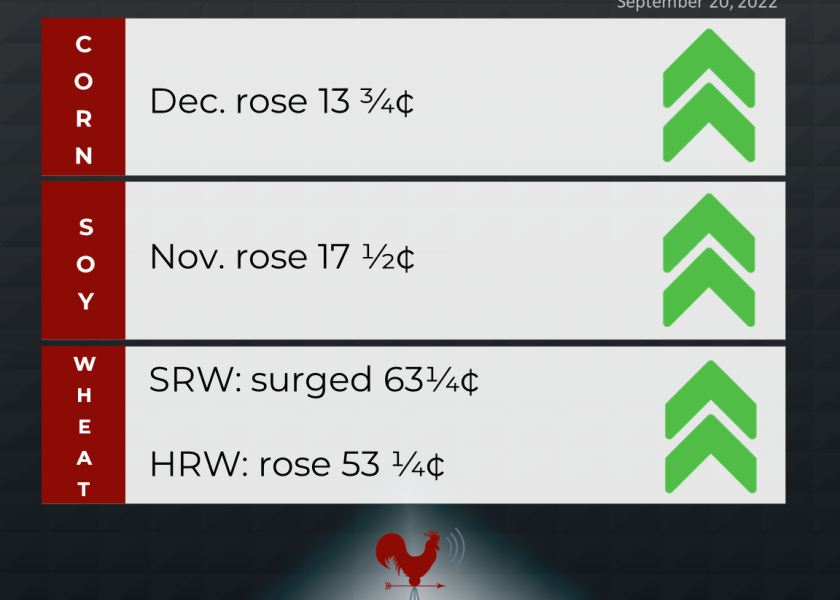 Corn: December corn rose 13 3/4 cents to $6.92. Corn rose a second straight day on spillover from a sharp rally in the wheat market, which rose on renewed concern over grain shipments from the Black Sea region. Concerns over Black Sea supplies escalated following reports Russian-installed leaders in occupied areas of four Ukrainian regions had set plans for referendums on joining Russia this week.
Soybeans: November soybeans rose 17 1/2 cents to $14.78 3/4. December soymeal gained $10.10 to $439.40, a lifetime-high close. December soyoil rose 75 points to 65.91 cents. The soy complex was supported by spillover from rallies in corn and wheat, as well as slower than expected U.S. harvest progress and indications of strong crushing demand.
Wheat: December SRW wheat surged 63 1/4 cents to $8.93 3/4, the contract's highest close since July 8. December HRW wheat rose 53 1/4 cents to $9.63, the contract's highest close since June 30. December spring wheat gained 41 cents to $9.59 1/4. Wheat futures rallied in part on concern Vladimir Putin may block renewal of a safe passage deal allowing grain shipments out of Ukraine's Black Sea ports.
Cattle: October live cattle rose 57.5 cents to $146.30, the highest settlement for a nearby contract since August 2015. October feeder cattle fell $2.275 to $180.025. Nearby live cattle ended firmer on expectations for further near-term cash market strength.
Hogs: October lean hogs fell 50 cents to $95.975, while deferred contracts posted modest gains. Hog futures were supported by ideas the cash market is establishing a near-term bottom. The CME lean hog index gained 45 cents today to $98.42 (as of Sept. 16). Tomorrow's index is expected to decline 6 cents.