Winter Wheat Surges, Soybeans Plunge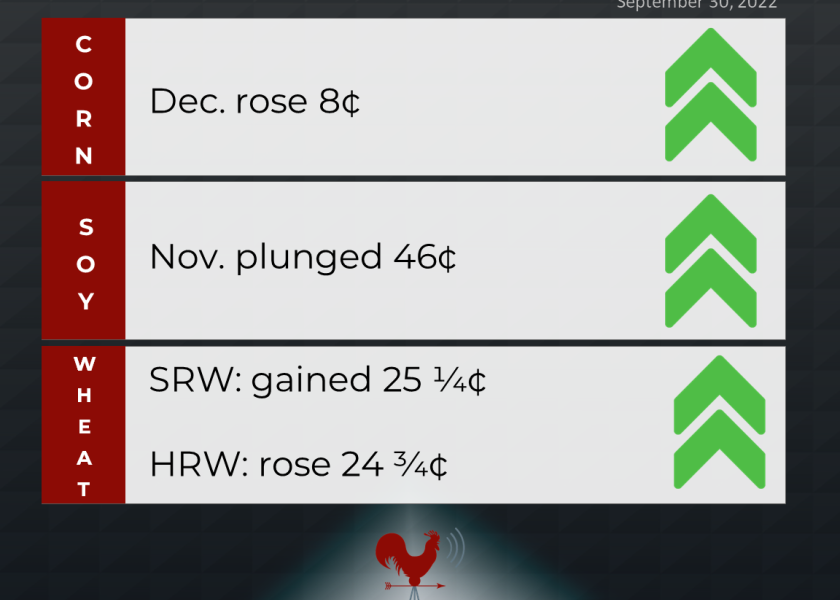 Corn: December corn futures rose 8 cents to $6.77 1/2, the contract's highest close since Sept. 22 and a gain of 3/4 cents for the week. Corn futures ended with a modest gain for the week after USDA, in its quarterly Grain Stocks report today, said U.S. corn stockpiles as of Sept. 1 totaled 1.376 billion bu., up from 1.235 billion bu. the same date a year earlier but about 136 million bu. under analyst expectations.
Soybeans: November soybeans plunged 46 cents to 13.64 3/4, down 62 cents for the week and the contract's lowest closing price since July 26. December soymeal fell $4.20 to $403.00. December soyoil fell 230 points to 61.56 cents.  Soybeans tumbled to a two-month low after USDA's quarterly Grain Stocks listed U.S. soybean supplies as of Sept. 1 at an unexpectedly high 274 million bu., 32 million bu. above the average analyst estimate.
Wheat: December SRW wheat gained 25 1/4 cents to $9.21 1/2, up 41 cents for the week and the contract's highest closing price since June 29. December HRW wheat rose 24 3/4 cents to $9.91 1/2, up 41 cents for the week. December spring wheat climbed 16 cents to $9.82, up 32 3/4 cents for the week. USDA, in its annual Small Grains Summary, lowered its final all wheat production estimate to 1.649 billion bu., down 134 million bu. from an August figure and 139 million bu. under trade expectations.
Cattle: December live cattle fell 72.5 cents to $147.05, down $1.50 for the week. November feeder cattle fell $3.20 to $174.625, down $3.625 for the week. Softer cash fundamentals weighed on futures. Cash cattle trended weaker, and Choice beef cutout values fell $1.26 early today to $244.82, an 18-month low.
Hogs: December lean hogs rose 50 cents to $76.225, still down $6.575 on the week. Slumping cash fundamentals limited the impact of bullish USDA herd data. USDA, in its quarterly Hogs & Pigs update Thursday, estimated the U.S. hog herd at 73.8 million head as of Sept. 1, down 1.4% from a year earlier and larger than expectations for a 0.8% drop.