Corn Futures Fall to 5-week Low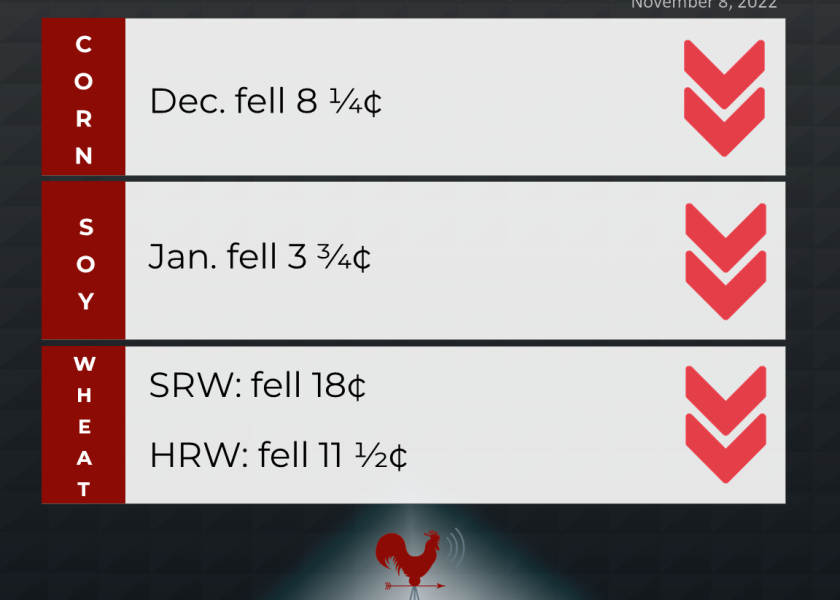 Corn: December corn fell 8 1/4 cents to $6.67 1/2, the contract's lower close since September 27. Corn futures fell to the lowest levels in over five weeks as eroding technicals and soft export demand encouraged sellers ahead of Wednesday's USDA's Crop Production and Supply & Demand Reports.
Soybeans: January soybeans fell 3 3/4 cents to $14.46 1/2. December soyoil fell 130 points to 75.03 cents, while December soymeal gained 30 cents to $419.30. Soybean futures gained early support from fresh export business but faded with the crude oil market's sharp losses.
Wheat: December SRW wheat fell 18 cents to $8.27 3/4, the contract's lowest close since Sept. 6. December HRW wheat fell 11 1/2 cents to $9.45 3/4. December spring wheat fell 9 3/4 cents to $9.50 1/2. SRW wheat futures sank to a nine-week low as weak technicals combined with a slump in crude oil and a lack of fresh news on the Ukraine/Russia export deal to encourage sellers.
Cattle: December live cattle ended unchanged at $153.05, while January feeders fell 2.5 cents to $179.90. Live cattle failed to generate significant followthrough buying from strength Monday, though downside remains limited by a robust cash market.
Hogs: December lean hogs fell $1.475 to $85.575. Hog gave back a large chunk of Monday's rally amid ongoing softness in cash fundamentals and seasonally increasing supplies. Putout values extended recent weakness, dropping $1.31 early today to $95.64, the lowest since early February.