Corn, Soybeans End Lower but. . .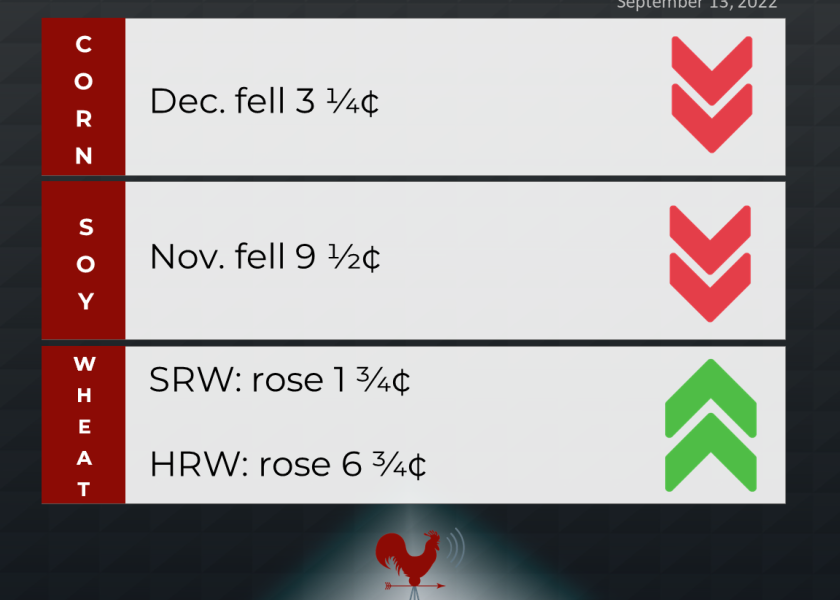 Corn: December corn futures fell 3 1/4 cents to $6.92 3/4, down from Monday's 2 1/2-month closing high. Corn fell on mild corrective pressure following Monday's USDA-driven rally. Sharp declines in U.S. equities and a surged in the U.S. dollar weighed on the commodity sector.
Soybeans: November soybeans fell 9 1/2 cents to $14.78 3/4 after hitting a 2 1/2-month intraday high earlier. December soymeal fell $10.80 to $423.80. December soyoil rose 24 points at 66.73 cents. Soybeans fell on profit-taking and spillover weakness from U.S. equities and crude oil but remained near the highs posted Monday.
Wheat: December SRW wheat rose 1 3/4 cents to $8.60 1/2. December HRW wheat rose 6 3/4 cents to $9.33 3/4, the contract's highest closing price since July 8. December spring wheat rose 4 3/4 cents to $9.31 1/4. HRW led wheat futures higher as the market erased overnight declines on support from strengthened technicals and USDA's lower-than-expected U.S. ending stocks forecast Monday.
Cattle: October live cattle fell 95 cents at $144.80. October feeder cattle lost $2.60 to $180.525, a two-month low. Cattle futures fell after higher-than-expected consumer inflation sent U.S. equities tumbling and the U.S. dollar soaring.
Hogs: October lean hogs rallied $3.875 to $95.75, the highest close since Aug. 17. Hogs surged even as the cash market extended its slump, with the CME lean hog index down $1.28 to $98.29, the lowest since late February. While cash weakness may continue for at least a few more days, futures traders appear to be anticipating a seasonal bounce in hog prices.