Morning Calls & Comments (11/9)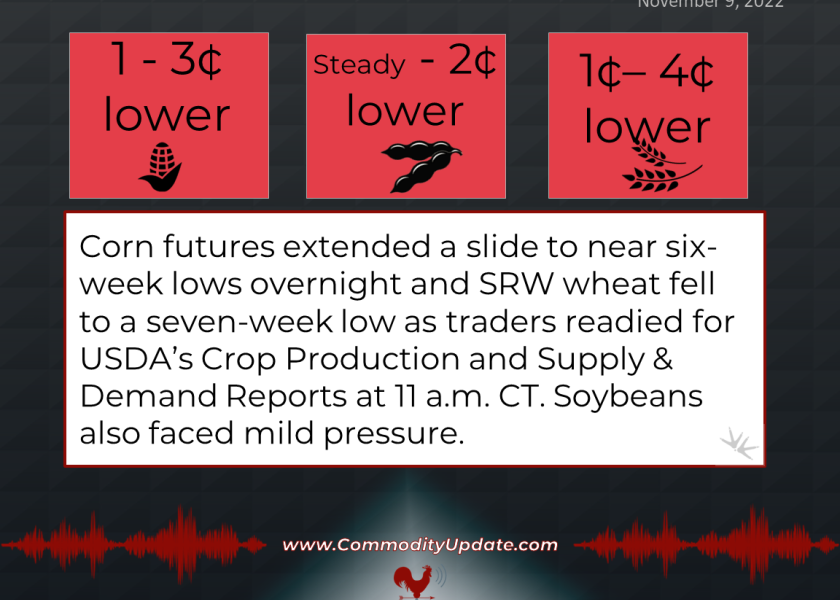 Corn: 1 to 3 cents lower.
Soybeans: Steady to 2 cents lower.
Wheat: 1 to 4 cents lower.
Cattle: Steady-mixed
Hogs: Steady-weaker
Corn futures extended a slide to near six-week lows overnight and SRW wheat fell to a seven-week low as traders readied for USDA's Crop Production and Supply & Demand Reports at 11 a.m. CT. Soybeans also faced mild pressure. Malaysian palm oil fell 3.8% on concerns over higher stockpiles and China's Covid restrictions. Front-month crude oil weakened slightly. U.S. stock index futures signal a weaker open, while the U.S. dollar index is up more than 500 points.
USDA reported daily soybean sales of 264,000 MT for delivery to China and 198,000 MT for delivery to "unknown destinations," both for the 2022-23 marketing year. On Tuesday, USDA reported soybean sales totaling 414,700 MT to China, Mexico and unknown destinations.